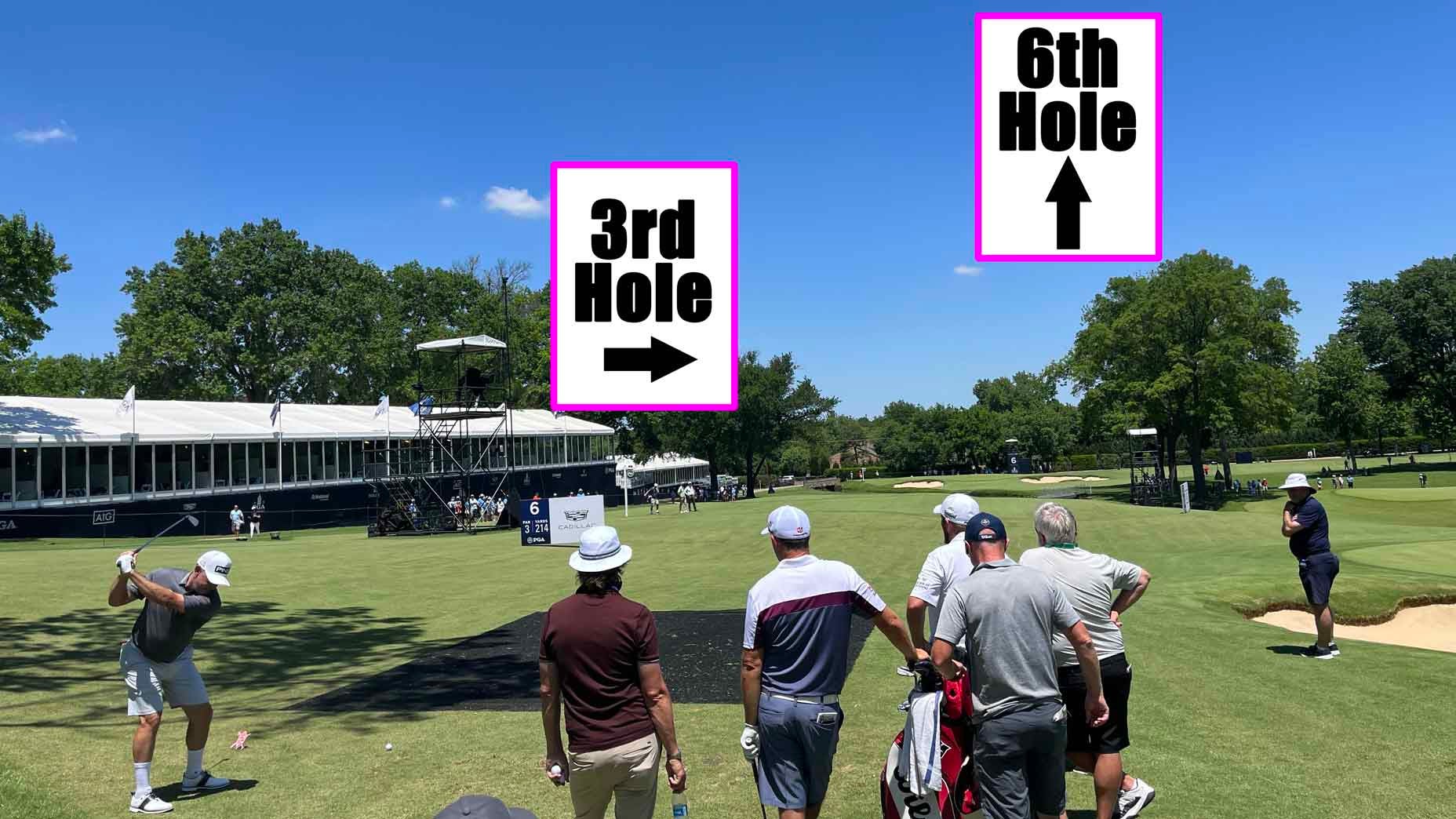 Sean Zak
TULSA, Okla. — The long days in the Oklahoma sun might feel extra long this week at Southern Hills, for no other reason than the 3rd, 5th, 6th and 7th holes. The holes are not extra long themselves, they're just on top of each other. Literally. 
Normally, fans at home watching on TV struggle to gain a sense of how holes weave around each other, but there is no choice here in Tulsa. The golf course Tetris of how the 13th interacts with the 16th, or the 6th with the 7th, is very much part of this PGA Championship. The tee shot for the 13th hole flies over the 12th green. The tee shot that trickles long of the 6th green will suddenly find itself on the 7th tee box. It might not seem like a big deal 51 weeks out of the year, but little things hold bigger meaning during these major championship weeks. With 30,000 fans surrounding them, making those 156 golfers fit comfortably inside the ropes and play in under five hours becomes a bit daunting. 
We'll start with the 3rd hole, a harmless par-4 that requires golfers to cross the line of play on the downhill, par-3 6th. When Adri Arnaus took to that tee box Monday, he crossed the eyesight of Shane Lowry, who peered out from the 6th tee. Arnaus waited for a few minutes, as many pros will do this week, as Lowry stuck his peg in the ground and played his approach. Once Lowry's ball came back down to earth, Arnaus raced to hit his tee ball on 3, but by the time he was ready to chase after it, it was time to wait again. Lee Westwood was now ready to play on 6. (If you squint hard enough at the photo atop this page, you'll see Arnaus off in the distance, stuck at golf's version of a stop light.)
Why must golfers inject this level of patience into an already slow game? It's an unwritten part of PGA Tour code, where even the slightest sound can seem to throw a player out of their routine.
"You don't want to be thinking over the ball that, oh, is the ball going to land now … or now … or now," Viktor Hovland said Monday. "You kind of want to get that out of the way and get ready for your shot. 
"I'm sure the player on the tee would maybe communicate with a guy back on 6 tee to make sure he was going. But then that makes it go pretty slow. So we'll see how that goes."
Yes, Vik. That makes it go pretty slow. Especially in a field of 156. 
What Hovland so aptly described is the idea of players on the 7th tee waiting for balls to land from the 6th tee, on which players will have to alternate with competitors teeing off on 3, who will be sure to hold off until shots land on both 2 and 5 greens. Dizzy yet?
That corner of the property is particularly fun, if only for the fact that fans can plop down in that Oklahoma sun and actually enjoy it all from one spot. Three approaches and three tee shots without barely turning their chins. It's when those fans get excited that things will get real interesting. If Tiger Woods hits one tight on the 6th hole this week, anyone lining up a putt on the 2nd green won't just hear it. They'll feel it. 
If that isn't unnerving enough, Mother Nature is ready to do her part, too, with forecasts calling for 20-25 mph gusts throughout the opening rounds. If we know anything to be true in high level pro golf, it's that more wind = more thinking, more thinking = longer rounds, and longer rounds require a lot of daylight! These long days in the Oklahoma sun will need to be long days of Oklahoma sun.