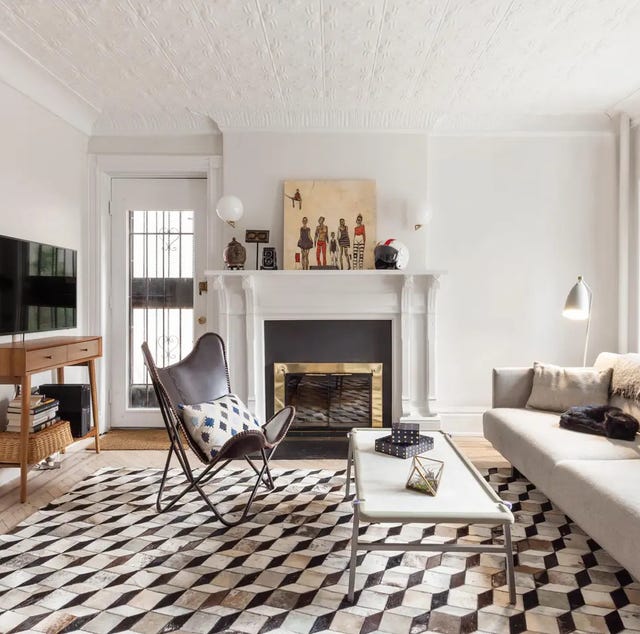 Regan Wood
First woven by nomadic tribes out of reeds and grasses 5,000 years ago, rugs have been a mainstay of interior decor for millennia—and for good reason! Often the unsung hero of home decor, rugs soften footfall, absorb noise and are excellent internal insulators, in turn helping to cut down heating bills. Functionality aside, rugs can also totally transform a space by tying a color scheme together and adding texture, dimension and statement-making style. Another reason why you'll rarely see a designer pass up the opportunity to utilize an area rug in a living room? They set boundaries and define zones, delineating spaces solely dedicated to some much-needed R&R.
Whether it's employing an exquisite flatweave, Kilim runner or a striped statement rug, designers continuously prove that rugs are more than just utilitarian pieces. When paired with a generally minimalist style, a rug boasting a colorful, patterned design can bring out accent colors in the background and add a touch of playfulness. On the other hand, an antique Persian or Moroccan rug—both enduring designer favorites—can level up the gravitas and drama in any living space. Looking to completely change up your space? Simply upgrading your rug can do wonders in elevating your living room.
With countless rugs coming in an endless variety of patterns, designs, colors, materials and sizes, it can be difficult to choose just the right one. To lessen the stress, we've assembled a collection of 26 living room rug ideas that'll inspire and help you find the rug of your dreams.
Advertisement – Continue Reading Below
1
Bird's Eye View
To introduce a complementary color and warmth, designer Jessie Lane opted for an exuberant area rug, which brings a sense of history and convention to this post-modern living room.
2
Rustic Eclecticism
In this lakeside cottage devised by Shannon Ggem, a cheery, tasseled rug is the perfect accent to the dramatic stone fireplace, double chandeliers and the surplus of warm tones.
3
Marble Mimicry
To make an already luxurious high-rise apartment feel even more opulent, design firm Mendelson Group snuck a rug that resembles white marble underneath chic furnishings.
4
Circle of Influence
A large, circular rug outlines this living space thought up by Los Angeles-based designer Kay Kollar. It pairs perfectly with a mauve ottoman, an oval pendant light and a curvaceous sofa and coffee table.
5
Chase the Rainbow
A multi-colored rug, similar in composition to the artwork hanging over the fireplace, takes center stage in this subdued and comfortable living room designed by Koo de Kir.
6
Double Trouble
For a high-rise condo, Chicago-based designer Elizabeth Stamos layers a basketweave floor mat below a smaller, geometric Persian rug. The effect is added warmth, texture and dimension.
7
Coastal Character
To pull together this breezy living room, designer Amy Aidinis Hirsch put a chic, basketweave rug to use, which highlights the surrounding navy blue and dark wood tones.
8
Back to the Future
To ground this ultra-modern, ultra-gorgeous oceanside residence, the firm Chimera Interiors utilized a tan and cobalt area rug, bringing warmth and a sense of traditionalism.
9
Classic Black and White
Showing how a few authentic furnishings can make a show-stopping display in a living space, design studio Night Palm opted for a simple black and white rug to go underneath a vintage Mario Bellini sofa.
10
Easy Breezy
To pull together this cheery living room filled with art, unique Mid-Century Modern fittings and beloved books, designer Martin Young opted for a desaturated area rug that brings both warmth and coolness.
11
Island Living
A basketweave mat pairs with a textured tan wall and light wood furnishings, while a geometric cobalt and cream rug on top accentuates surrounding hues. Together, the layered rugs help create a breezy atmosphere in this Sullivan's Island living room designed by Angie Hranowsky.
12
Let There Be Light
A gorgeous skylight brings plenty of brightness and warmth to this living room designed by the firm Taconic Builders, while a ruby red area rug paired with sage curtains and a cream sofa lends the room vibrancy.
13
Candy Cane Stripes
Los Angeles-based design studio Sherwood Kypreos brought color to this modern, dual living and dining room with a candy cane striped rug.
14
Bright Side
Large windows let plenty of light into this cozy living room designed by Anja Michals. A geometric area rug makes a neutral, yet lively, backdrop for simple black, white and rattan furnishings.
15
The Golden Touch
An area rug featuring abstract stripes of muted yellow, orange and blue takes center stage in this Upper East Side living room designed by Amy Lau.
16
Cube Out
This quirky, yet understated living room designed by Laurie Blumenfeld features a brilliant, cubic patterned rug, which couples perfectly with a geometric throw pillow and a one-of-a-kind textured ceiling.
17
Drama Queen
Delightful drama is plentiful in this Bostonian living room designed by Elizabeth Benedict. An animal skin rug adds even more grandeur.
18
Eclectic Method
Los Angeles-based designer Jessie Lane does it again with this eclectic, Mid-Century-inspired living space. A purple and yellow Chinese Art Deco rug mirrors hues found in the couch and the gallery wall.
19
Blue Hues
For a grandiose living room filled with plenty of personal details, San Francisco-based designer Tineke Triggs layered hues of blue through a velvet couch, upholstered accent chairs and a monumental blue-and-white area rug.
20
Green House
To conjure a maximalist mood, interior firm Everage Design, Inc. employed an area rug that would be a statement piece in just about any other room besides this one, designed for the Robinson Gardens Showcase House.
21
Animal Instinct
To level up the vintage charm of this 1920s bungalow, studio reDesign home employed an animal area rug, adding more eye candy to this living room.
22
Lakeside Oasis
Blurring the line between the outdoors and indoors, this open-air living room designed by firm LDa Architecture & Interiors features a black and white, geometric area rug that brings in some much-needed warmth, especially for a cold lakeside night.
23
California Casual
For this Los Angeles home, designer Lily Spindle utilized a mustard yellow, navy and white rug, tying in the warm tones of a nearby couch and highlighting the bright wood coffee table.
24
Modern Family
For this family room, San Francisco-based design firm bd home matched a neutral chevron rug with a cozy pair of ottomans and simple seating, making space for a gold globe pendant to take center stage.
25
Complementary Chic
In this living room designed by Kendall Wilkinson, colors pulled from the traditional area rug are repeated throughout the room. The rug's pink tones are present in the sofa's pillows and shades of blue are repeated in the vintage art piece.
26
Repetition is the Name of the Game
For this wine country retreat, firm Niche Interiors featured a simple black and white rug that mimics plant cell biology.
This content is created and maintained by a third party, and imported onto this page to help users provide their email addresses. You may be able to find more information about this and similar content at piano.io
Advertisement – Continue Reading Below